Diatomaceous earth filter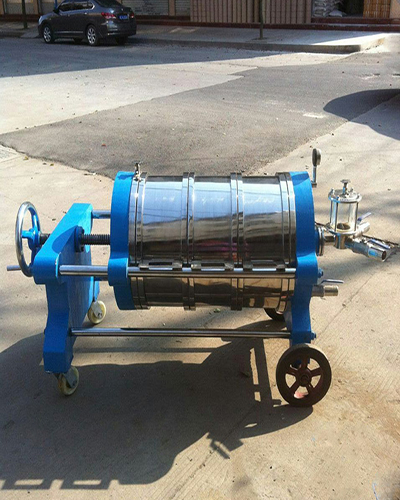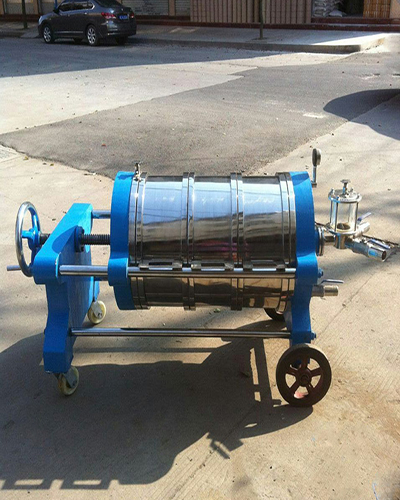 | | |
| --- | --- |
| | Diatomaceous earth filter characteristics and structure 1. The machine consists of a housing, an intermediate shaft, filter plates, filter guide rods, valves, sight glasses, all of the liquid contact parts are made of stainless steel and ABS material, th |
Diatomaceous earth filter
First, using industry
The aircraft has been in liquor, wine, low alcohol wine, rice wine, wine, wine, beverage and other industries widely used, the filter can reach 99.8 percent clarity to give satisfactory results in practical use.
My unit is willing to achieve good results in the filtration process and efforts, while ready supply of consumables.
Equipment Specifications
Device Model

Dimensions

Filter area (square meters)

Number of filters

Equipment caliber DN (mm)

Theoretical flow (standard liquor) t / h

Working pressure

(mpa)

With pump models

LS400A

900x540x1550

5

40

50

3-5T/H

≥0.3

CHL8-40

LS400B

850x540x1250

2.5

20

32

8-9T/H

≥0.3

CHL4-40

WK500A

2400x750x850

15.9

38

32

13-15T/H

≥0.3

LY20-25

WK500B

1850x750x850

8.9

20

32

8-10T/H

≥0.3

LY20-25

WK400A

2350x680x800

9.8

38

32

9-12T/H

≥0.3

LY10-25

WK400B

1800x680x800

5.1

19

32

6-8T/H

≥0.3

LY10-25

WK330A

1700x600x750

3.4

20

32

3-5T/H

≥0.3

LY5-25

WK330B

1600x600x750

2.5

15

32

2-4T/H

≥0.3

LY5-25

WK250

1100x350x450

2.0

20

32

1-3T/H

≥0.3

LY3-25

WK220

900x300x400

1.0

15

32

0.5-1.5T/H

≥0.3

LY3-25
Second, the installation diagram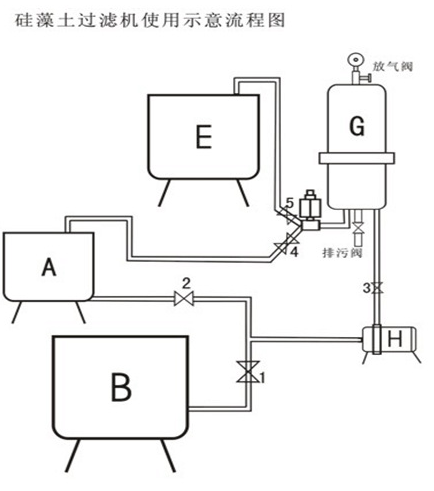 Third, the use
1, is connected. Outlet connections shown in each cask and H as well as filter G, the pump inlet pump rubber tube connecting small and large barrels A barrels B, the pump inlet connected to the outlet of the filter 3, the filter of FIG. 4 connected to small barrel-a, the filter outlet 5 is connected storage tanks E,
2 territories. The unfiltered wine around 150 kg on A bucket, if the filter is 330 plus 2.5 kg of Celite in A bucket Stir, if the filter is 400 plus 3 kg of diatomite in A bucket, 2.3.4 re-open the valve, close the valve 1.5, and then start the beverage pump H, this time in the muddy liquid container a 3 by a pump from imported input filter, muddy liquid celite followed them into the machine, attached to the filter cloth, through the outlet valve 4 Back barrels a, form a cycle. Cycle 15 minutes from the sight glass at the filter to see if the wine becomes clear, then state has adhered to all of the diatomaceous earth filter in the filter cloth, forming a filter layer, a process called "territories", after the completion of the soil can be formal filtered.
3, and filtered. The unfiltered wine into large barrels B, the B note in barrels longer need to add diatomaceous earth, and then close the valve 2.4, 1.3.5 opens the valve inside the container B unfiltered wine through the pump to the filter H G, after filtration flow storage cask E, E inside the wine is filtered and clean good wine, you can enter the filling machine filling.
4, cleaning. Filter G filter certain amount of drinking filter is clogged dirt, the main performance is the outlet flow 5 will be significantly reduced, pressure rises close 0.2MPa, then filter must be cleaned filter, and after the shutdown shutdown the inlet valve and outlet valve 4.5 3, opening the exhaust valve and drain valve, liquid filter from inside the drain valve to drain, then open the filter flange and remove the filter bucket, rinsed with tap water filter, until Zangtu rinse all, then filter cask good fastening flanges screws, new territories, and filtered again.
Fourth, the performance of diatomaceous earth filter aid introduced
Diatomite is a kind of aquatic plants in several million years ago A biochemical sedimentary rock called diatoms like cell wall components, has numerous small holes and wells, the powder particle size is very small, 2-100 microns about 90 percent of permeable voids, the main ingredient is SiO2, has good chemical stability, high temperature, insoluble, non-toxic, the porous microparticles have a great ability to filter, to remove the 1-0.1 micron impurities between.
Filter aids generally have the following characteristics:
Stable performance adaptability, as diatomaceous earth filter aid composed mainly of silica, the chemical stability can also be used in hot and cold and varying concentrations of the acid does not affect the basic nature of their dope.
To obtain high flow rate and clarity, aid for its size varies, hard frame, full of holes and a variety of single and re-shape relationship, so that the filter layer is not dense knot together, having a large surface area and larger porosity, and achieve a higher filtration rate and ideal clarity.
I units can provide diatomite Jilin Changbai Mountain, there are two coarse soil and fine soil.
Fault and Treatment
Symptom

Cause

Approach

Filtering quality below standard

1, add less aid

2, the cycle time is less, unevenness adsorption filter layer

3, drink pump failure

4, the inner body and the pipeline has not ruled out air

5, filter damage rubber spacer

1. Increase aid

2. The longer the cycle time

3. Before work check beverage pump

4. exclude air

5. check and replace the rubber ring

Filtered slowly

1. Adding too much aid

2. Low pressure

3. The filter layer fouling

4. The filtrate viscosity is high

1. A reasonable reduction filter aid

2. Increase the inlet pressure

3. timely cleaning filter mud

4. Reduce the viscosity of the filtrate

Filter leakage

1. Place the housing gasket is not damaged or

2. no fastening flange screws

1. Replace the gasket or replace

2. fastening screws

Infusion pump pressure below standard

1. Pump seal damaged

2. The pump motor is faulty

3. The pump suction pipe is too soft

1. Replace the seals

2. Find the reason for repair

3. The spring hose