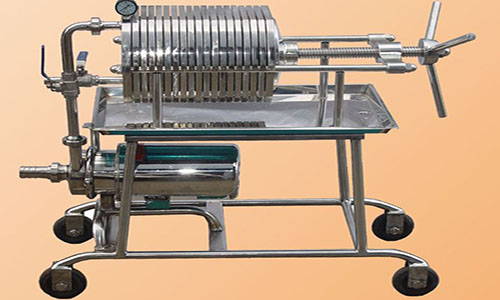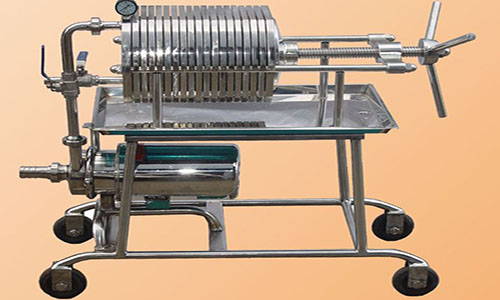 First, the use of stainless steel plate and frame filter
It can be widely used in pharmaceutical, biochemical, food and beverage, water treatment, brewing, petroleum, electronic chemicals, electroplating, printing and dyeing, environmental protection and other industries, all types of liquid filtration, clarification, purification treatment of the latest equipment.
Second, the principle
Floating liquid was pumped into each filter chamber sealed filter machine, working under the influence of pressure, the filtrate through the membrane or other filter, the fluid discharge port, the residue left in the frame form a filter cake, so as to achieve solid-liquid separation purposes.
Three characteristics
1, the aircraft are used 1Cr18Ni9Ti or 316L stainless steel materials, corrosion-resistant and durable.
2, filter plate using strong thread structure, depending on filter media and production process (initial filter, semi-fine filter, fine filter) request, switch to a different filter, the direct use of microporous membrane that can achieve aseptic filtration purposes. Users can also filter size of the amount, a corresponding decrease or increase the filtering layers to suit production needs.
3, all components are sealed with silicone rubber seals, high temperature, non-toxic, no leakage, good sealing performance.
4, also based on user needs, special multi-stage filtration device, can put a coarse filter, two can put a finer filter, which saves time and improves the filtration essence, but also no reflux device when filter cleaning is very convenient for the prison. After the pump stops, the return valve open, all deposits will be automatically discharged reflux, while only recoil with water from the return pipe, it is about clean water.
5, the pump (or available explosion-proof motor) and the inlet pipe member, mounted with quick connection and disconnection for easy cleaning.
Fourth, the technical parameters
| | | | | | | |
| --- | --- | --- | --- | --- | --- | --- |
| Model Specification (mm) | Floors | Filter area m2 | Um pore size filter media | Flow T / h | Fixed rate Motor | Dimensions (mm) |
| XL-200X200 | 10 | 0.4 | 0.8 | 3 | 1.1 | 650X420X720 |
| XL-300X300 | 10 | 0.9 | 0.8 | 5 | 1.1 | 750X520X850 |
| XL-400X400 | 10 | 1.6 | 0.8 | According to the actual flow rate | 1.1 | 800X700X1120 |
| XL-400X400 | 20 | 3 | 0.8 | According to the actual flow rate | 1.5 | 920X700X1120 |
| XL-400X400 | 26 | 4 | 0.8 | According to the actual flow rate | 1.5 | 1320X700X1120 |
| XL-400X400 | 32 | 5 | 2.0 | According to the actual flow rate | 2.2 | 1670X700X1200 |
| XL-400X400 | 38 | 6 | 2.0 | According to the actual flow rate | 2.2 | 1800X700X1300 |