Parallel displacement pump
| | |
| --- | --- |
| | LR series of parallel displacement pump |
Parallel displacement pump
A parallel displacement pump works:
Displacement parallel twin screw pump system, is the crystallization of modern design techniques and modern high-precision manufacturing technology, manufacturing standards in strict accordance with modern sanitary fluid equipment, all using open, modular, hygienic design structure, internal equipment no dead ends, they can be fully CIP / SIP, according to EHEDG, FDA, GMP, 3A sanitary standards and requirements, strive to ensure high-quality, high-quality equipment. Specially designed spiral system teeth together with each other, the relative movement in the cavity, forming a series of dynamic space surface sealed to one another in parallel chambers, while working closely with the helix and the cavity wall, the front end of the suction mouth cavity and back-end row is divided into a series of multi-seal between the outlet of the small chamber, with the screw rotates, successive teeth together separation rotating continuously recurring front to back, the dynamic structure of the rotary seal surfaces in a continuous suction side of the fluid in the chamber sealed in and along the helical axis direction of the continuous discharge end push to move smoothly discharged.
Second, the parallel displacement pump performance characteristics:
Spiral direction of movement of the rotor and the material flow in the same direction, so the material is not destroyed and agitation; you can pan and can be reversed, can arbitrarily change the flow of the production process as needed; may contain particulate material transport, but also for products there is no cut-and-destroy; can transport low viscosity materials to be transported high-viscosity materials, as long as the material can flow can transport; transport liquid can be transported gas, and solid-liquid mixed transportation of materials, even if there large amount of gas, it will not produce water hammer effect. The pump model, there are eight series, optional flow 3-300m3 / h; optional pressure 0.6-2.5Mpa depending on the viscosity of the liquid; various viscosity fluids can be transported up 2,000,000cps; maximum speed up to 4000rpm; maximum operating temperature 150 ℃; good suction performance, with particularly prominent self-absorption capacity, the degree of vacuum -0.09Mpa, a uniform continuous flow, low pulsation, vibration, low noise; modular structure, solid construction, installation and maintenance easy; an ordinary 2 or 4-pole motor, you can select the frequency control; pump is the core component of the whole system, from the front cover cavity, the cavity, helical rotors, rotating shaft, mechanical seal chamber, mechanical seals and other parts composition. Shaft using thick reinforced design, integrated structure, high-quality high-strength special steel material precipitation, mechanical seal with seal in the form of circulation, the use of high-pressure spring, health, safety and durability.
Third, the use of parallel displacement pump range:
Pharmaceutical industry: all kinds of liquid, blood products, biological products, sugar-coated, all kinds of transfer paste, glucose, such as oral liquid;
Dairy industry: milk, cheese, curd, butter, fruit, yogurt, ice cream, various oils, various stabilizers;
Food industry: fats and oils, jams, mayonnaise, mashed potatoes, starch, spices, chocolate, milk, pet food;
Canned food industry: sand potatoes, soups, stews, tomato, appetizer, pudding, condiments, jams and jelly;
Beverage: liquid yeast, beer, wort, fruit juice, syrup, chocolate, cocoa butter, corn syrup, gels;
Cosmetics industry: all kinds of perfumes, creams, shower gels, shampoos, lotions, toothpaste category;
Chemical industry: ink, paint, latex, enamel, detergents, polymers, resins, and other various types of paint;
Oil industry: for all kinds of oil, oil products gathering ground pump;
Refinery: transportation of crude oil, fuel, waste oil, asphalt pump.
Fourth, the parallel displacement pump technology parameters:
| | | | | | | |
| --- | --- | --- | --- | --- | --- | --- |
| Model | Displacement L / r | Inlet diameter | Outlet diameter | Speed ​​range | Corresponding to the flow rate (L / H) | Power (Kw) |
| LR70 | 0.10 | DN50 | DN50 | 100-1450 | 600-8900 | 2.2-4 |
| LR97 | 0.26 | DN65 | DN65 | 100-1450 | 1560-21840 | 5.5-7.5 |
| LR110 | 0.48 | DN80 | DN80 | 100-1450 | 2880-40320 | 11-18.5 |
| LR135 | 0.80 | DN100 | DN100 | 100-1450 | 4800-67200 | 18.5-22 |
| LR164 | 1.19 | DN125 | DN125 | 100-1450 | 7140-99960 | 30-37 |
| LR196 | 2.06 | DN150 | DN150 | 100-1450 | 12360-173040 | 45-60 |
| LR208 | 2.64 | DN200 | DN200 | 100-1450 | 15840-221760 | 75-90 |
| LR252 | 4.34 | DN250 | DN250 | 100-1450 | 26040-364560 | 110-132 |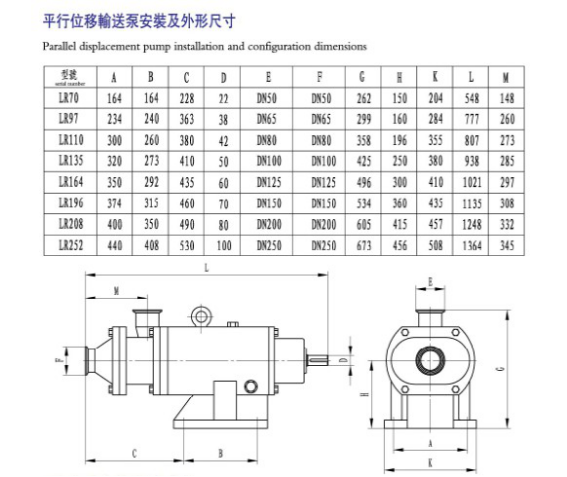 We choose, mutual benefit and win-win:
1, as a parallel to the pump manufacturer, we have strict quality, if you need to learn about, you are welcome to contact us.
2, our fight is not price, but also to maximize the profit sharing with you, while ensuring quality products and provide excellent service.
3, the product modified with each passing day, but whenever you can buy any product, we have at least 10 years parts supply obligations.