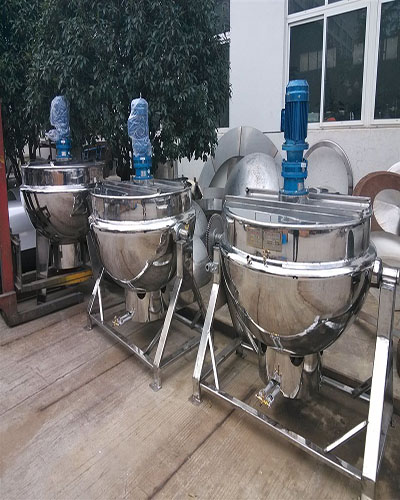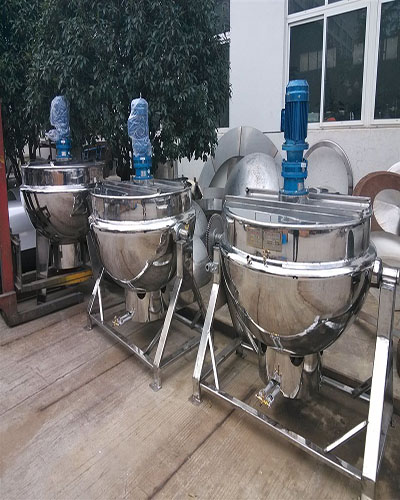 A steam pot sandwich Overview:
Steam jacket pot, also known as steam boiler, steam pot sandwich. Steam jacket pot is stamping, welding without forming a spinning spherical stainless steel pot, where pot can be used for less than 180 degree rotating, the device is open type concentrating equipment, mainly used in candy, cakes, lo, beverages , preserves, jams and other food processing and brewing, wine, pharmaceuticals and household chemicals and other industries, as the material dissolves, sterilization, heating, blanching, blanching, preparation, cooking, sterilization, and other concentrated formulation and processing. Also applies to all types of food processing industry, hotels, restaurants, industrial and mining enterprises, institutions units, institutions canteens, as porridge, soup, stew and cook purposes.
Second, interlayer pot Category:
1, according to the structure is divided into: tilting pan sandwich, vertical (fixed) pot sandwich structure
2, divided by heating: electric heating sandwich pot, steam heating sandwich pot, gas heating sandwich pot
3, according to the needs of the process using a stirred or without stirring device.
Third, the steam pot sandwich structure:
Sandwich pot pot body mainly by the tilting frame and composition; wherein the tilting frame also can be exchanged for foot. Pot in the form of a double structure consisting of the inner and outer spherical pot body composition, mezzanine pass into the steam heating (also optional electric heating or gas).
Fourth, the steam jacket pot use:
Sandwich pot can be used for cooking, porridge, boiled bamboo shoots, broth, water heating, cooking, sugar, chemical glue, cooking, boil the oil, fry fillings (lotus seed paste, moon cake stuffing, green bean paste, red bean paste etc.), cakes, drinks, preserves, halogen products (such as Luya neck, hair products, duck feet, chicken feet, chicken wings, pig ears, tofu, meat, etc.), jam (eg: bean paste, sweet sauce, peanut butter, chili sauce, beef sauce, etc.), wine and other food and pharmaceutical industries (herbs and baked) with household chemicals and other industries.
Pastry Applications: frying process (heating temperature precise, adjustable).
Beverage Application: can be composed of sugar system: that is, from gouache mixing pump, sandwich pot, double filters, ultra high temperature sterilization unit Chenghua sugar system. Tea can also be used to leach precooked and other materials, heating and mixing.
The application preserves: preserves can be used in pre-cooking (off bitter), sugar boiling process.
Sauce products Application: Blending, sterilization process a variety of bean paste sauce, sweet sauce, peanut sauce, chili sauce, beef sauce.
Fifth, the steam jacket pot features:
1, a certain pressure steam as the heat source, big heating area, high thermal efficiency, uniform heating;
2, the liquid material boiling time is short, easy to control the heating temperature;
3, equipped with a pressure gauge and a safety valve or electric control box, good looks, easy to install, easy to operate, safe and reliable;
4, steel sandwich pot low cost than stainless steel pot sandwich;
5, sandwich pot stainless steel and carbon steel pot sandwich sandwich pot, inside and outside the former pot and feet are made of stainless steel manufacturing 304316L (in line with national sanitary standards); the latter only in the pot using 304316L stainless steel, other parts are carbon steel (health may be less demanding);
Six steam pot sandwich Technical parameters:
Model Name

JYL-50

JYL-100

JYL-200

JYL-300

JYL-400

JYL-500

JYL-600

JYL-800

JYL-1000

Diameter (mm)

Φ600

Φ700

Φ800

Φ900

Φ1000

Φ1100

Φ1200

Φ1300

Φ1400

Deep pot (mm)

450

500

550

600

650

700

750

850

950

Full volume (L)

50

100

200

300

400

500

600

800

1000

Steam pipe

3/4"

1"

2"

Condensate pipe

3/4"

1"

Mixing motor power (kw)

0.55

0.75

1.1

1.5

2.2

Stirring speed r / min

36

36

36

36

36

Boiling time (min) filled to 80%

~5

~8

~11

~14

~18

~22

~25

~34

~40

Heat transfer area (m2)

0.45

0.58

1.12

1.42

1.75

2

2.3

3.2

3.9

Steam consumption kg / period / (cycle)

3.25

6.5

13

19.5

26

32.5

39

52

65

Length (mm)

650

750

850

950

1050

1150

1250

1450

1550

Width (mm)

650

750

850

950

1050

1150

1250

1450

1550

Height (mm)

1350

1400

1450

1500

1550

1700

1800

1900

2000

Design temperature (℃)

145 (can be adjusted based on customer usage)

Maximum working temperature (℃)

135 (can be adjusted based on customer usage)

Design pressure (MPa)

0.35 (can be adjusted based on customer usage)

Maximum working pressure (MPa)

0.3 (can be adjusted based on customer usage)

Remark

Fixed / tiltable, volume, stirring power, the working pressure can be customized according to customer requirements